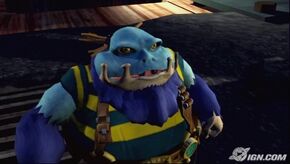 Barter is a major smuggler in The Lost Frontier. He runs a Tavern in Far Drop. He is a Lurker, and unlike most lurker's he is husky, short and blue; usually lurkers are tall, skinny, lanky and purple. He tells you to defeat a room full of pirates, and defeat the leader pirate (besides Phoenix); the Saucy Pirate.
Barter

Hometown

Fardrop

Hair

Bald

Eyes

Yellow

Species

Lurker

Weight

170-180 (est)

Height

about 3-4 ft.

Age

40-50 (est)

Gender

Male

Weapon

None

Vehicle

None
Early Life
Edit
Old World
Edit
Barter was not around, although other Lurkers (simaller to Brutter's type [his grandfather]).
The Lost Frontier
Edit
Original Openography
Edit
Barter walks up to Jak, introducing himself "Me Barter. Big time smuggler. Me a top dog in Far Drop." Jak later asks who those Dark Creatures are (pointing to Dark Apes), He then says "Dark Mutants? They show up few months ago - been fighting 'em big time ever since. I need strong fists to protect me goods. I pay you well." Jak explained to him that he needs is suplies. Barter promised them suplies if they protect him from dark mutant apes.
Character
Edit
Barter is a smuggler who owns a Tavern in Far Drop. When he first met Jak, he offered him and Daxter ship supplies in exchange for labor. Later on, he offered Jak rewards for participating in his bar brawl challenges.
Biography
Edit
Personality
Edit
He has a thick accent, it is unknown, but he seems to have gone mad, or, was not very well educated, although he does have a since of pride.
Appearance
Edit
Barter is a short and stout blue bar tender. He wears overalls and a yellow and blue striped shirt.
Abilities
Edit
Barter does not have any physical abilities, although he does have several employees because he has alot of money.
External Links
Edit
Ad blocker interference detected!
Wikia is a free-to-use site that makes money from advertising. We have a modified experience for viewers using ad blockers

Wikia is not accessible if you've made further modifications. Remove the custom ad blocker rule(s) and the page will load as expected.