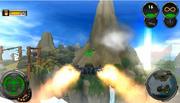 The Volcano is a volcano found on Brink Island, thus, it is called the Brink Volcano. When Phoenix steals the eco seeker from Keira, you have to chase Phoenix around the volcano. When the eco seeker falls in the volcano you have to race Phoenix to get it back. There are Armadillos and Drillbots
Geography
Edit
The volcano is full of stone platforms raised out of lava, as you progress through the level the lava's level increases.
Precursor Artifacts
Edit
Precursor Oracles, the Eco Seeker, Precursor Orbs are found in the Volcano.
Lava Armadillos are found in the Brinkal Volcano.
Drillbots
Edit
Drillbots are found in the Brinkal Volcano.
Drifters are found in the volcano.
Ad blocker interference detected!
Wikia is a free-to-use site that makes money from advertising. We have a modified experience for viewers using ad blockers

Wikia is not accessible if you've made further modifications. Remove the custom ad blocker rule(s) and the page will load as expected.