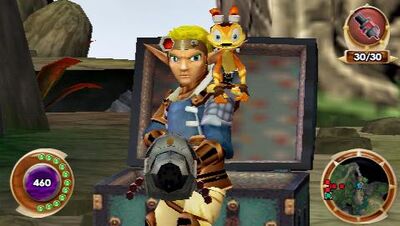 Chests are found throughout the game.
Brink Field Jacket
Edit
The Brink Field Jacket has the basic armor of a former marauder.
Crash Plate Armor
Edit
This is a simaller armor to the Brink Field Jacket
Sky Baron Uniform
Edit
This is a green padded uniform which adds an extra bubble to your life meter.
Precursor Battle Gear
Edit
This is simaller to the armor Jak gets in Jak 3
Dark Sages Mall
Edit
This is a full body uniform.
Gun Upgrades
Edit
There are alot of gun upgrades consisting of Riotchet, Higher Ammo Capacity and Faster Rate of Fire.
Ad blocker interference detected!
Wikia is a free-to-use site that makes money from advertising. We have a modified experience for viewers using ad blockers

Wikia is not accessible if you've made further modifications. Remove the custom ad blocker rule(s) and the page will load as expected.