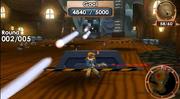 Danger Course Turret (DCT)

Type

Turret

Fuel

None

Faction

Danger Course

Function

Turret

Ammo

Cities Defense Grid

Power 1-10

10

Range

2x Far

Rate of Fire

7

User

None

Usable to Jak

No
The Danger Course Turret (DCT), is a non-eco powered weapon. This is the only weapon that does not use ecos. There are two different types of DCT's: 1. 102 Turret (a big turret that fires out multi-fast white bolts), and Syria Turret (a small turret that fires out multi-fast red bolts). They are located at the Danger Course, North-west Down-town Aeropa. Their serial number is DCT-QP-665.
It is a turret that puts the Danger in Danger Course. It is evaded by standing behind moving barriers.
External Links
Edit
Ad blocker interference detected!
Wikia is a free-to-use site that makes money from advertising. We have a modified experience for viewers using ad blockers

Wikia is not accessible if you've made further modifications. Remove the custom ad blocker rule(s) and the page will load as expected.