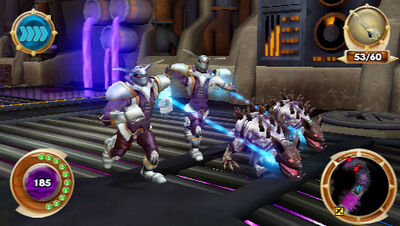 Dark Aeropan Warriors are mutated aeropan citizens, simaller of what they suffered to what Jak suffered in Jak II, they then have all the dark powers Jak had, just in a smaller form. Luckily for the Aeropan Leaders, this expirement worked, but for the Barron of Haven City, it did not work
They were once just regular every day aeropan civillians, but then got mutated. These have the simaller behaviour to Krimzon Guards, Elite Guards and Freedom League Guards.
Pre-Lost Frontier
Edit
They have no history before the lost frontier.
The Lost Frontier
Edit
They are enemy factions.
Lost Frontier after-math
Edit
They were all destroyed along with Aeropa and their leaders.
Characteristics
Edit
Physiology
Edit
They have all the simaller builds to the Guards of Haven City: Elite Guards Krimzon Guards Freedom League Guards.
Abilities
Edit
Dark Eco Powers.
Aeropans.
Expandable.
Equipment
Edit
The ACS Behemoth as their base, and Aeropan Wafer Cruisers as their flyers.
Aeropan Devices.
Dark Eco weapons.