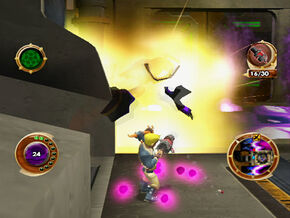 Gunmod: Lobber

Type

Gunstaff Mod

Fuel

Green Eco Rounds

Faction

Jak

Ammo

Green (ammo)

Power 1-10

9

Range

5

Rate of Fire

5

User

Jak

Use to Antags.

No
The Lobber is the last (fourth) gunmod for the gunstaff in The Lost Frontier. It is a green mod replacing the dark mod. It is a grenade launcher, lobbing is a synonym for launching. It is perfect for blasting away large groups of enemies. You get it at Keira's workshop.
It is a weapon replacing the dark mod.
In Combat
Edit
The Lobber deals large amounts of damage over a somewhat large area. Unlike its predecessor it doesnt have a charge time nor does it have any range to speak of. Its best put to use in the crammed late game fights against the dark eco citizens. Alternatively its an easy way of dealing the last bit of damage to the final boss on foot.
Ad blocker interference detected!
Wikia is a free-to-use site that makes money from advertising. We have a modified experience for viewers using ad blockers

Wikia is not accessible if you've made further modifications. Remove the custom ad blocker rule(s) and the page will load as expected.