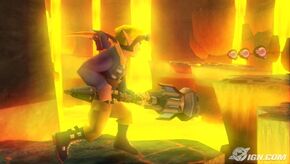 Gunmod: Vulcan Fury

Type

Gunstaff mod

Fuel

Blue Eco Rounds

Faction

Jak

Ammo

Blue (ammo)

Power 1-10

5

Range

Mid/Far

Rate of Fire

10

User

Jak

Use to Antags.

No
The Vulcan Fury is the third gun mod for the gunstaff. It is a blue mod, and has mid/far-range with the fastest rate of fire; to make a sort of machine gun like feature. It was originally called the Vulcan Barrel, but soon got changed because the Vulcan Fury is fueled with HCBE instead of Blue Eco. It is perfect for groups of enemies. You get it at the Phantom Blade in Keira's workshop.
It has a thin pole but at the end is a more of a club type.
It is the third weapon, you get it at the Phantom Blade in Keira's workshop.
In Combat
Edit
The Vulcan Fury is capable of killing almost any enemy in mere seconds with elongated fire.
Ad blocker interference detected!
Wikia is a free-to-use site that makes money from advertising. We have a modified experience for viewers using ad blockers

Wikia is not accessible if you've made further modifications. Remove the custom ad blocker rule(s) and the page will load as expected.