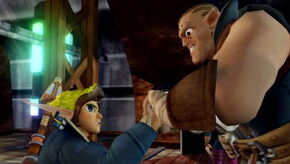 Klout was Captain Phoenix's first mate, unitl he betrayed the Eco-Pirates to the Aeropans for money. He was soon replaced by Captain Phoenix's new first mate Jon. He was also the muscle of the Eco Pirates Phantom Blade, and is the Expedition Trainer. He is also the security of the Phantom Blade's hangars.
KLOUT

Hometown

Persumably Fardrop

Hair

None

Eyes

Brown

Weight

350lbs

Height

8.0ft

Age

40

Gender

Male

Weapon

Once sceene with an eco pistol.
Early life
Edit
Pre-lost frontier
Edit
Nothing is known of Klout's past. It is presumed that he comes from Far Drop.
Lost Frontier
Edit
Klout appears in the opening cutscene when he and Phoenix attack Jak, Daxter, and Keira's hellcat cruiser. He appears again when Jak and Daxter storm the Phantom Blade to find Keira, and has a brief fight with Jak, which he easily wins, until the conflict is broken up by Phoenix and Keira. Throughout the most part of the game, he acts as Phoenix's heavy. When Jak, Keira, Daxter and Phoenix find the Eco Core, Klout betrays them to Duke Skyheed for money, leaving Phoenix shocked and mortified. He is killed when Keira causes the Eco Core to emit a blast of Dark Eco, which he is caught in.
Biography
Edit
Personality
Edit
He appears to have a rough pirate personality, and doesn't seem to care about anyone else (as he betrays the Eco Pirates for money).
Appearance
Edit
He wears a typical pirate jacket and brown pants. He's very big, and easily outsizes anyone else in The Lost Frontier. Klout is also bald and has some odd metal decorations on his head.
Abilities
Edit
Klout doesn't have any special abilities, though he is very skilled and quite acrobatic. Seen in the intro scene where he manages to catch a grappling hook in the middle of an Eco Storm while falling.
Equipment
Edit
He does not wear any equipment and mainly appears to rely on raw muscle power.
External Links
Edit
Klout is one of few villians who is never fought as part of gameplay. Count Veger is another. Jak and Klout do breifly fight on a couple of occasions, but this is during cut scenes.
Klout is very similar to the character of Kleiver from Jak 3 and X. Both are muscular and have similar voices. They are also both shifty characters, however, Kleiver is yet to actuall betray anyone as part of a storyline, whereas Klout outwardly betrays Phoenix. Jak and Kleiver remain rivals to this day, however.
Phoenix looks quite heartbroken when Klout betrays him, suggesting that he did actually see Klout as a friend.