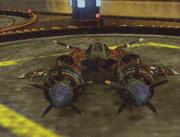 &nbsp
After Jak and Phoenix come to termis and start working together, this ship appears in the Phantom Blade's hangar. A light craft with great maneuvering and decent weapon abilities, plus the inclusion of a Ground Attack Rocket battery, makes the Sky Raider an excellent choice for all missions. Whether racing pirates or taking on heavy Aeropan transports, the Sky Raider can get the job done. Its one drawback is its armor which is lighter than other crafts and means it suffers damage more easily than heavy fighters.
Sky Raider

Type

Airship

Location

Everywhere

First Scene

Phantom Blade Hangar

Faction

Transportation

Weapon Slots

Front, mid. sec.

Mod. Slots

Everywhere

Power 1-10

5

Armor 1-10

3

Speed 1-10

5

Function

Combat
The Sky Raider is a light craft and employs good maneuverability. Not like any other aircraft, the Sky Raider, requires one pilot. Once in flight the user can use turbo to get an extra boost. It will occasionally run out of fuel. During flight the wings can support enough weight to hold three grown men during flight.
This contains HCGE like any other vehicles, although it is not seen using HCGE, so this remains presumed.
It has the armor of an Eco Pirate. Thus, Sky Pirates do use this vehicle, as well with Jak.
It's main weapons are machine guns and missiles.
References
Edit
External Links
Edit