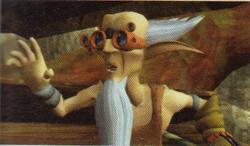 Tym is the grandson of Vi
. He is a mad person but yet the dark eco sage. He is a good mechanic as he made the uber series of robots and fixed Jak's ship when he landed on the mysterious island boarding with the brink. He lives in a treehouse on the island.
Tym

Hometown

Mysterious Island

Hair

Graying, Losing

Eyes

Covered

Species

Elf-human

Weight

130-140

Age

67 (est.)

Gender

Male

Weapon

Possibly Eco Pistol

Vehicle

None
To see a page of VIN (a name listed above), visit our associated friend the
Jak and Daxter Wiki (http://www.jakanddaxter.wikia.com/wiki/Vin)
Tym was once a Dark Eco Sage. He worked for the Aeropans and worked in the Old Aeropan Barracks. He then built the Dark Eco Warriors. He later tried to take the facility back by force to undo what he done. He was then kidnapped by Captain Pheonix to hide his work from the Aeropans. Captain Phoenix abandoned him on the Brink Island and Tym lost his memory.
Early LIfe
Edit
Pre-precursor legacy
Edit
He or his ancestor Vin was not born at the events of TPL
Precursor Legacy
Edit
He or is ancestory Vin was not born at the events of TPL
The Lost Frontier
Edit
When Jak and Daxter crashed on the Island by Phoenix, they meet the castaway. Tym instantly knows that Jak was touched by Dark Eco. He later sneaks off the Island with Jak and Daxter. On board the Phantom Blade, he activates the Eco Seeker, allowing them to find the Eco Core.
After Jak stops Skyheed, he reveals his name is Tym. Tym and Keira then decode the signs at the Brink. Not much is known yet what he did after The Lost Frontier.
Biography
Edit
Personality
Edit
When the player first encounters Tym, he acts rather oddly; the player can conclude that it is due to suffering from some sort of memory loss. Later on in the game, when he regains his memory, Tym's true nature is revealed to be one that is very kindly and understanding of others.
Appearance
Edit
Tym is an older looking man who has a severe forward curvature of the spine, he is balding and what little hair he has left is completely white. Tym wears coppery eye-ware over his face. Tym also wears gloves over both of his hands, one of which is prosthetic. His attire is made up of tans and browns.
Abilities
Edit
Tym can undo the locking mechanism on the Eco Seeker He can (and has) assembled vast amounts of robots during his lifetime.
In Hero mode, he also builds you the "Jaguar" experimental ship once you have all 5 pieces
Utilities
Edit
He has coppery eye-ware.
Transportation
Edit
Tym has no transportation, but does ride in Jak's hellcat, which he fixed.
Ad blocker interference detected!
Wikia is a free-to-use site that makes money from advertising. We have a modified experience for viewers using ad blockers

Wikia is not accessible if you've made further modifications. Remove the custom ad blocker rule(s) and the page will load as expected.