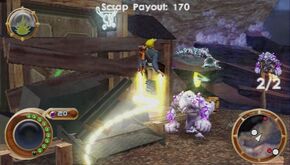 Yellow Eco (commodity)

Usage

Blaster Rocket Jump Leap Punch

Flow

YE

Consists of

YE

Founder

Yellow Sage

User

Jak Keira

Location

Everywhere

Function

Blaster Rocket Jump Leap Punch
Yellow Eco is one of the six colors of ecos. It resembles fire. It is usually gathered for shooting (in the Blaster). There is a Yellow Eco Vent for Jak's eco powers for a boost jump.
The Lost Frontier
Edit
Locations
Edit
Everywhere
Yellow Eco Gunmod: The Blaster
Yellow Eco Power
Yellow Eco Crystal
Weapons
External Links
Edit
Ad blocker interference detected!
Wikia is a free-to-use site that makes money from advertising. We have a modified experience for viewers using ad blockers

Wikia is not accessible if you've made further modifications. Remove the custom ad blocker rule(s) and the page will load as expected.